On my way to Vietnam for a JPAC mission, I layover in Oahu to get gear/refresher training and as luck would have it, HAWAII is one of the destinations for 2011. And as an added bonus, not only was the ToH season still open but also learned from Steve that the 3rd Place trophy might still be up for grabs. YOWZA, a huge surprise because the TOTAL distance for all 7 sites was only under 100 miles (a mere hiccup vs the almost 2,000 miles I just did for ToH California) .
http://maps.google.com/maps/ms?msid=208 ... 2818&msa=0
Oh heck yeah, I was not going to let this golden opportunity slip me by. ToH Hawaii, here I come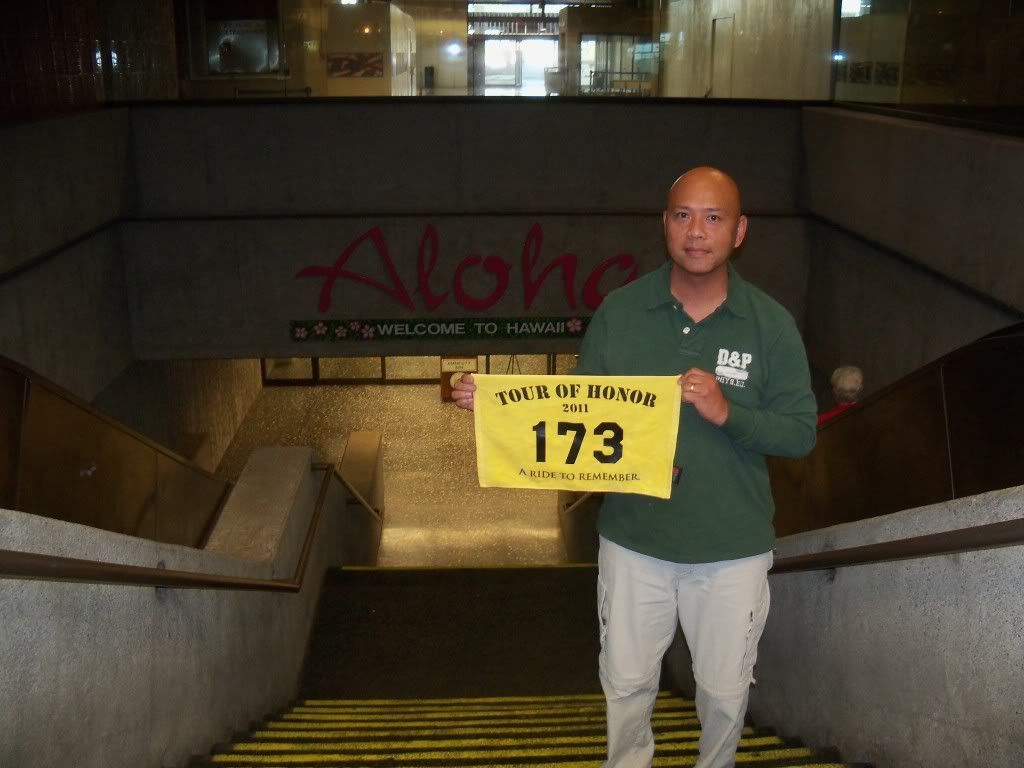 I have been riding for 20+ years and NOT once have I ever been on a moped/scooter. But in the urban jungle of Waikiki/Honolulu, a scooter is a most excellent mode of transport so perfect for cruising
island style
. Thought about renting a Sportser from CRUZIN Hawaii (ToH sponsor) but SO GLAD I was on a small/lightweight/nimble NO-CLUTCH bike…priceless when making lots of U-turns in narrow streets or making countless stops to ask for directions/use my GPS (more on that later).
Now on to the pictures and the only way to kick this off is with a picture of my
Oahu stallion
: behold the HD 200cc evo (minimum size for scooters to be FREEWAY-legal here). I now have a new found respect and admiration for these little critters (wicked rear brakes, way too easy to lock the rear tire
)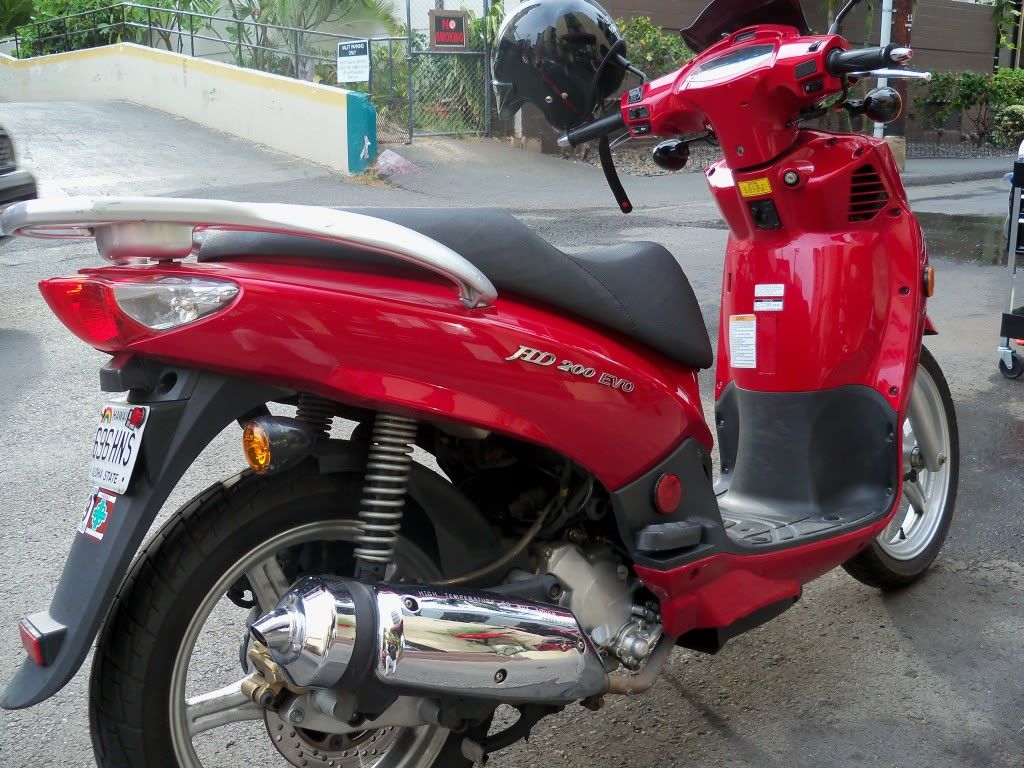 Drove to Waikiki to pick up the scooter and with the Hawaii Five Oh jingle playing in the background (in my mind at least), ToH Hawaii is officially underway.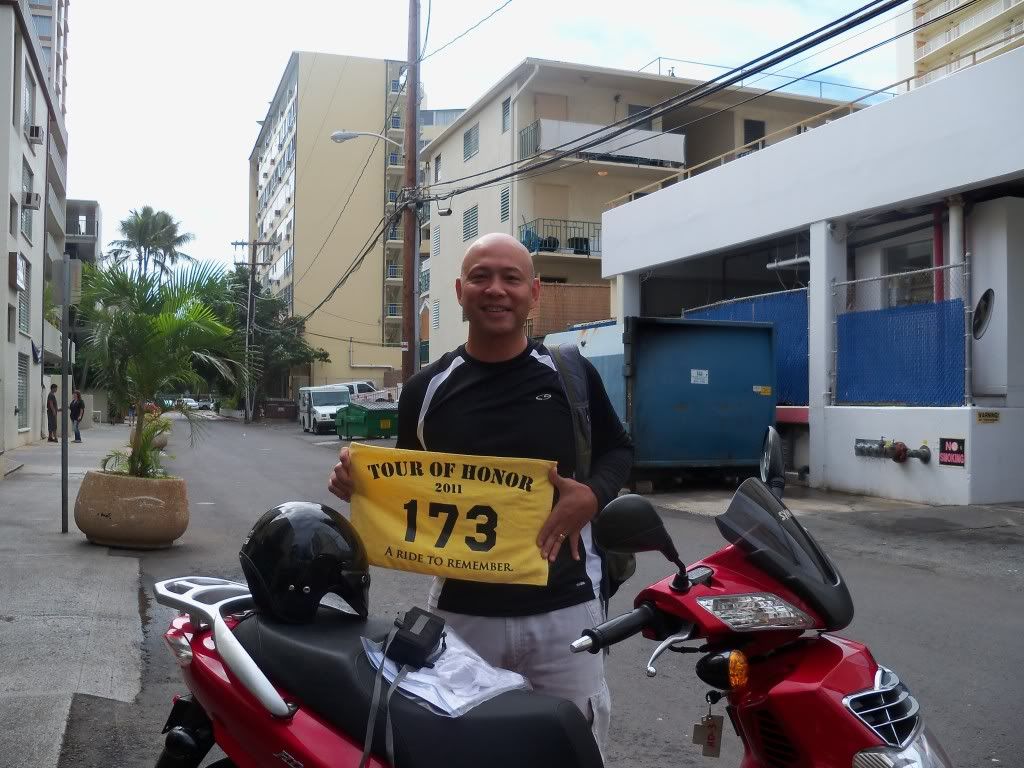 While still fiddling around with the scooter's controls (left lever is REAR brake, not the clutch and my right foot kept looking for a non-existent shift peg), I already arrived at the 1st stop, the Brothers In Valor memorial in downtown Waikiki (a full 1.4 miles away from my starting point and could not help but smile when I remembered the 1st leg of my ToH CA trip which was almost 300 miles).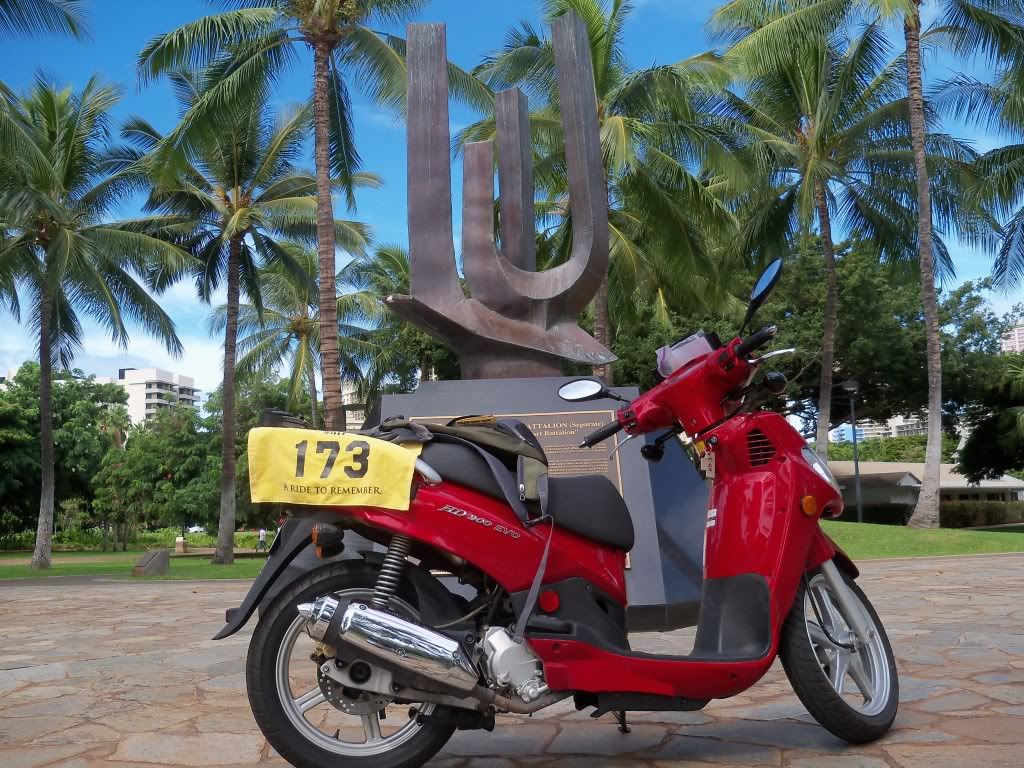 NOTE: this site sits right next to a busy street and parking curbside to snap a pic would have been impossible. But no problemo with a scooter, jumped right on to the sidewalk and crept right up to the front of the memorial.
The next stop is the Punchbowl Cemetery which was 3.2 miles away (man, I am having a blast already ). Lots of sidestreets to get here, all with names that are both hard to read and pronounce but more than enough signs/markers along the way to make sure visitors find it.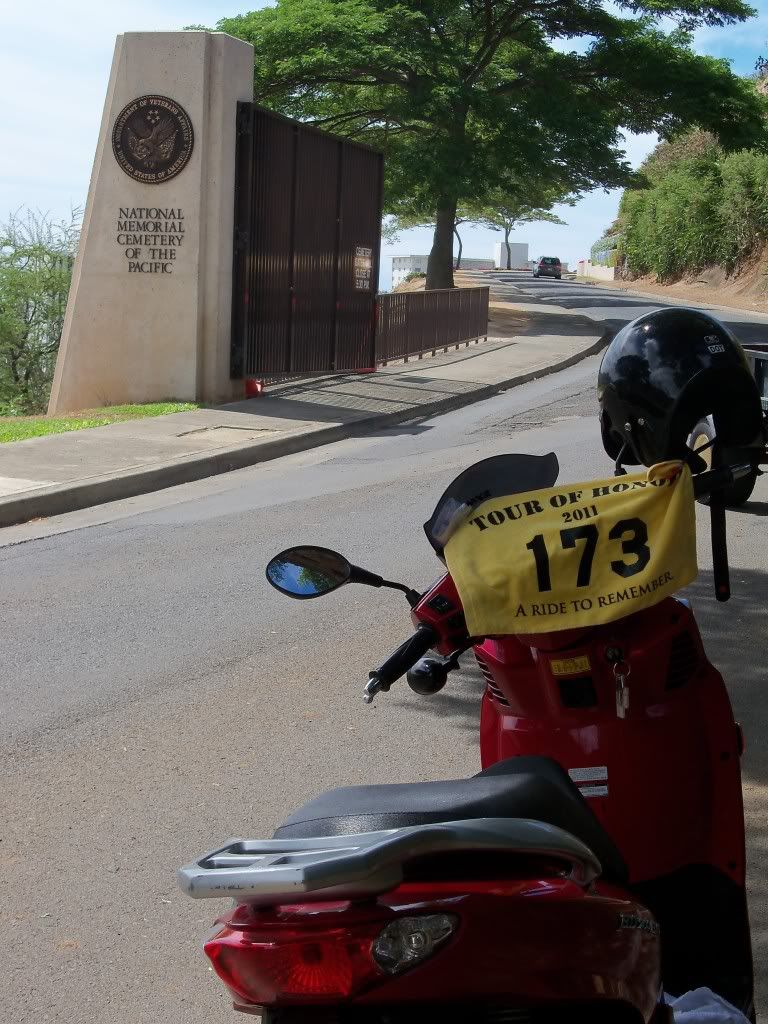 NOTE: I brought a GPS with me but had no way to hook it up to the scooter. But I had plan B ready to go: old school GPS and definitely HANDHELD (gripped it in my left hand while riding, glancing at it as needed). Yes, it is waterproofed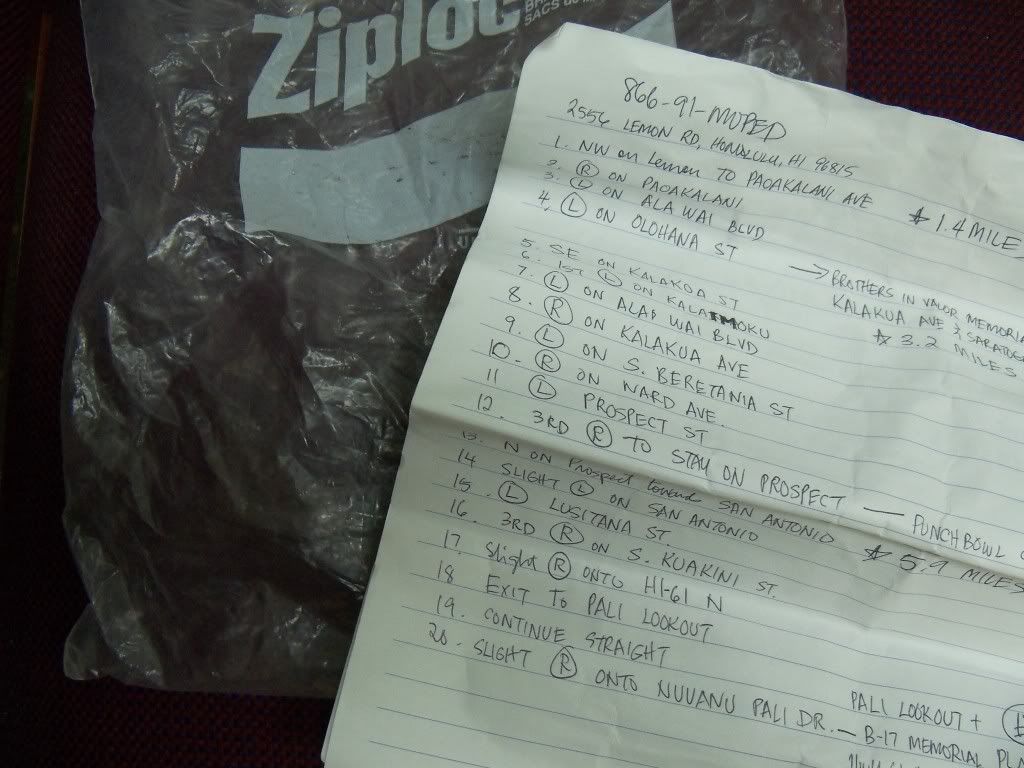 Stop # 3 is Pali Lookout and B-17 Memorial Plaque, 5.9 miles away thru the Honolulu Watershed Forest Reserve. Beautiful ride up Hwy 61, even got the chance to open the scooter. I got lost on the way to this site because I took an exit called NUUANU PALI Drive (see screenshot of GPS in above pic) and I scoured this street for the plaque with no luck (even asked some residents who sadly did not recognize the pic of the plaque I saved on my camera). Went back on Hwy 61 and not too far up the road is PALI LOOKOUT, asked the park staff who also did not recognize the picture of the plaque saved from ToH.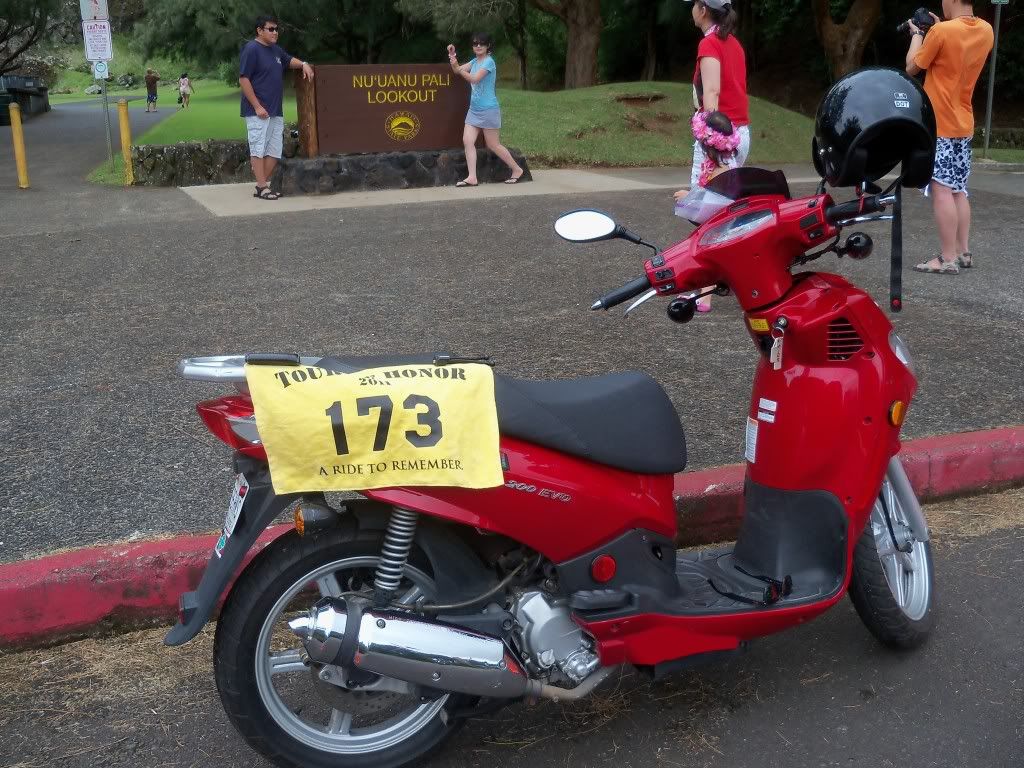 They suggested I go right up to the actual lookout area but still no plaque in sight. And just when I was about to give up, I saw a faded plaque mounted on a rockwall and voila, there it was staring me right in the face (whew).
TIP: This wall is at the end of the walkway (top left in picture above). NOTE: This pic was taken by a passerby who watched me try in vain to weigh down the rally flag with rocks.....not gonna happen due to very strong winds up here.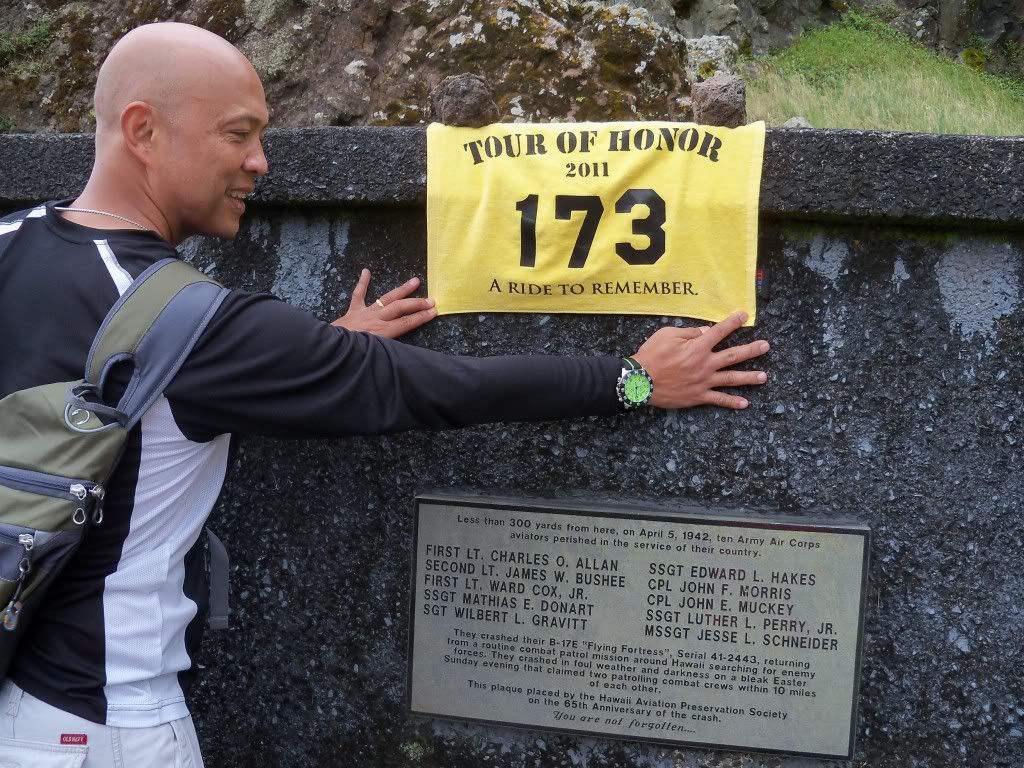 Breathtaking view (not me, the background
)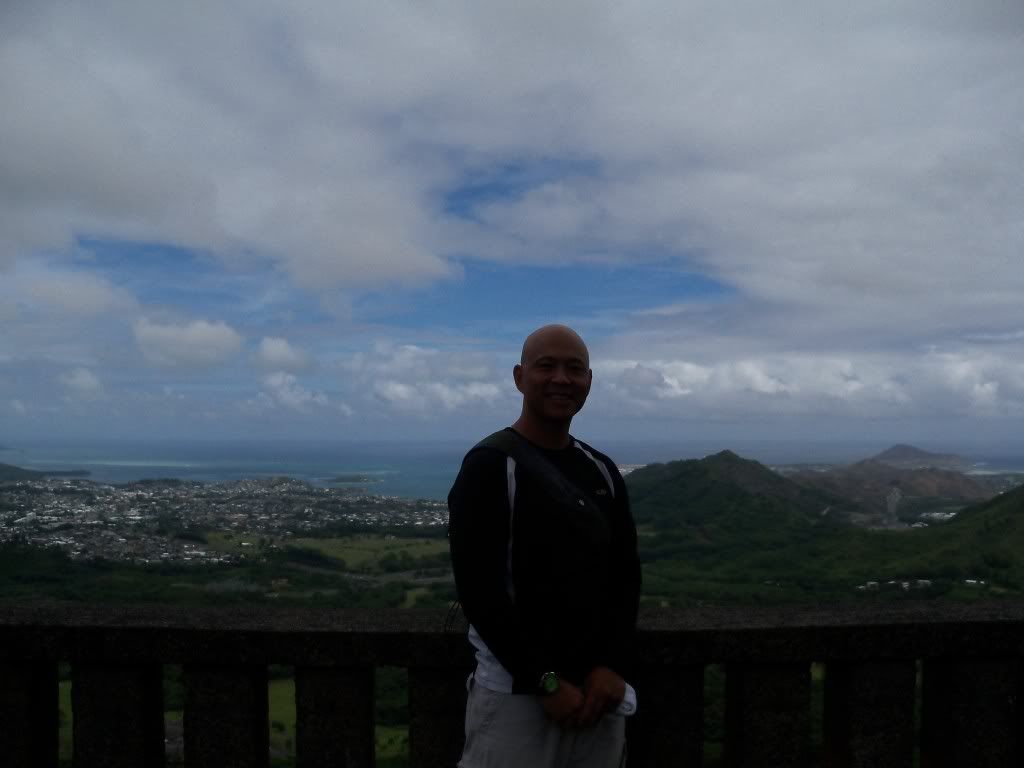 Getting warmed up now, I brace for my 1st stint on the freeway on a scooter to visit the Iwo Jima Memorial in Kaneohe Bay (a whopping 7.9 miles away). Not wanting to deal with the hassle of getting a visitor's pass for a rental bike (plus I forgot to bring the required paperwork to ride bikes on base), parked the scooter near the base entrance and took the short walk to the monument. N.B. I had the chance to visit the original in D.C but this one is very awe-inspiring nonetheless.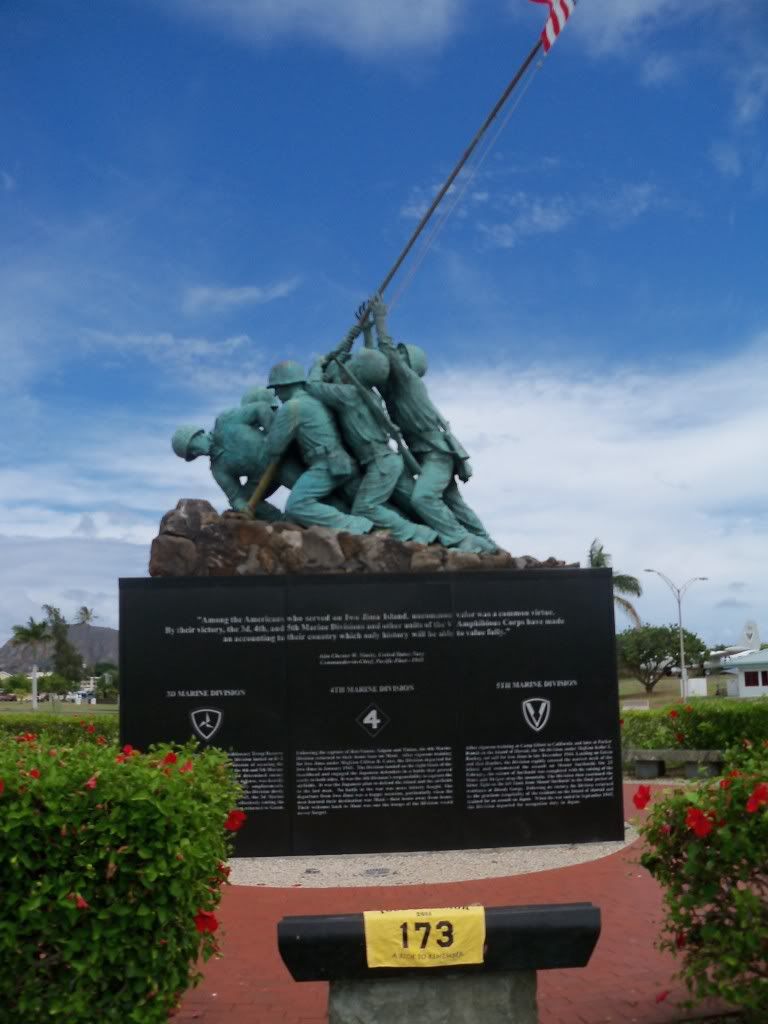 On the way out, I pulled over to a designated scenic spot to take a quick pic of Kaneohe Bay, a welcome respite from the hustle-and-bustle of Waikiki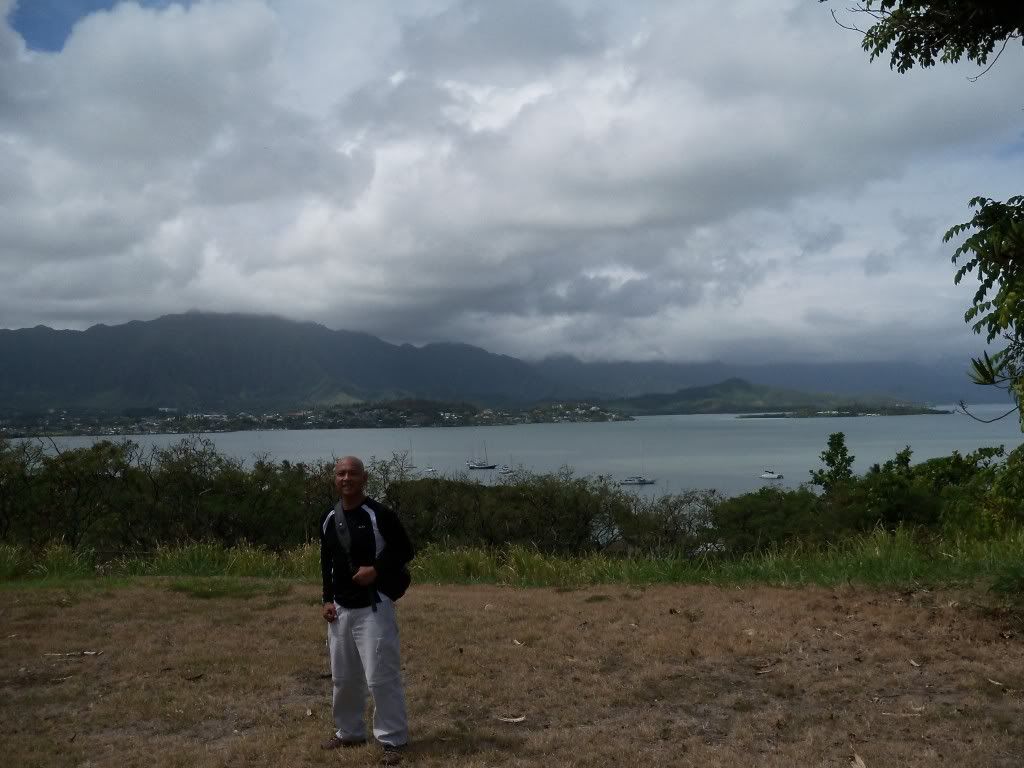 With 3 more stops to go, I scarfed down a granola bar and washed it down with some diet soda. I was now primed for the longest segment of the trip: 39.1 miles away thru the 3 freeways of Hawaii (H-3, H-2 and H-1). The scooter made a fan and a believer out of me as it whisked me up north, cruising thru pineapple fields and skirting along the North Shore up to site #5,
the Waialua-Kahuku War Memorial in Haleiwa.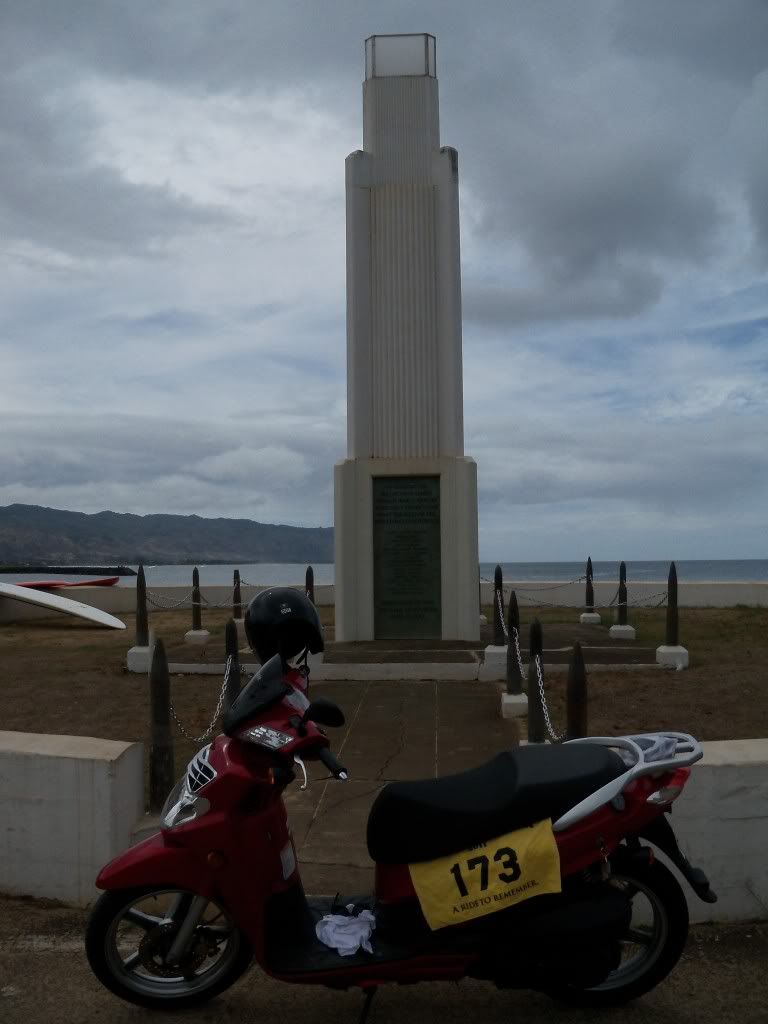 I deliberately did not rush to leave the peace and quiet of Haleiwa specially since 25 miles later, I was back in the city for site #6 (the most solemn and emotional stop in the trip for me):
the USS Arizona Memorial in Pearl Harbor.
NOTE: The last ferry/tour for the day stops at 1500 (did not know this in advance, good thing I arrived at 1430)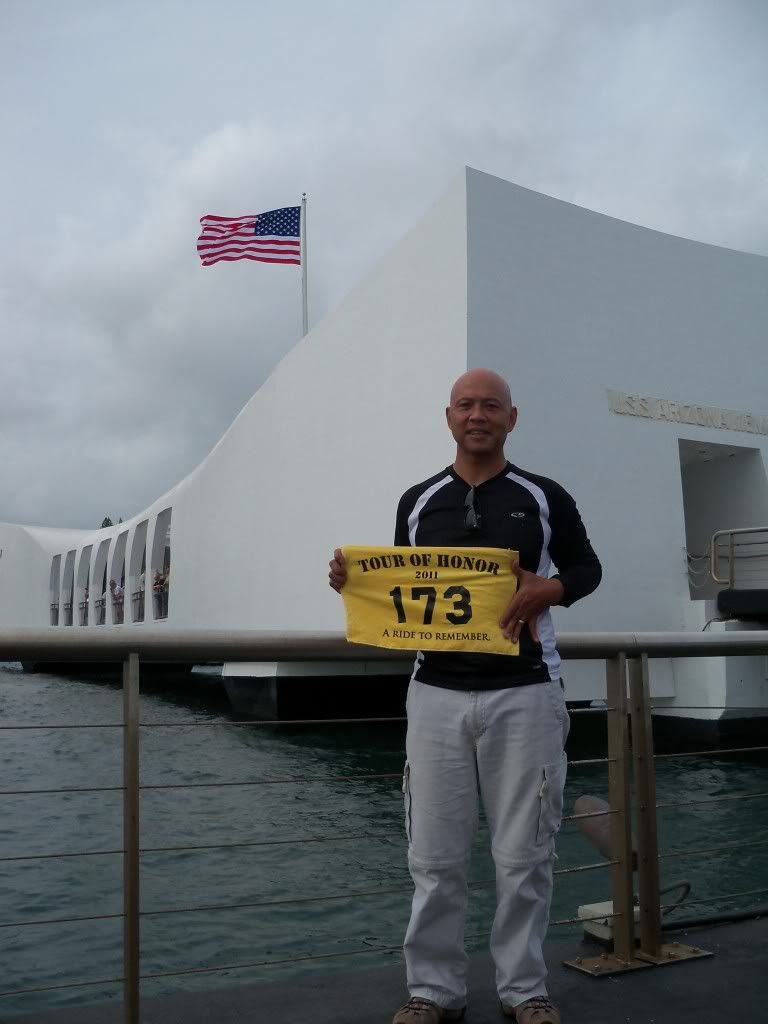 With the trip quickly winding down, I dashed across the bridge to Ford Island where the The Mighty Mo sits, the final stop to complete ToH Hawaii for me. Again because I was on a scooter, I was able to squeeze my way thru parking lot barriersto get this angle.
NOTE: Make sure you have all required PPE to ride a bike on base so the guards will let you thru (no pass needed this time, ID card and rental agreement was enough).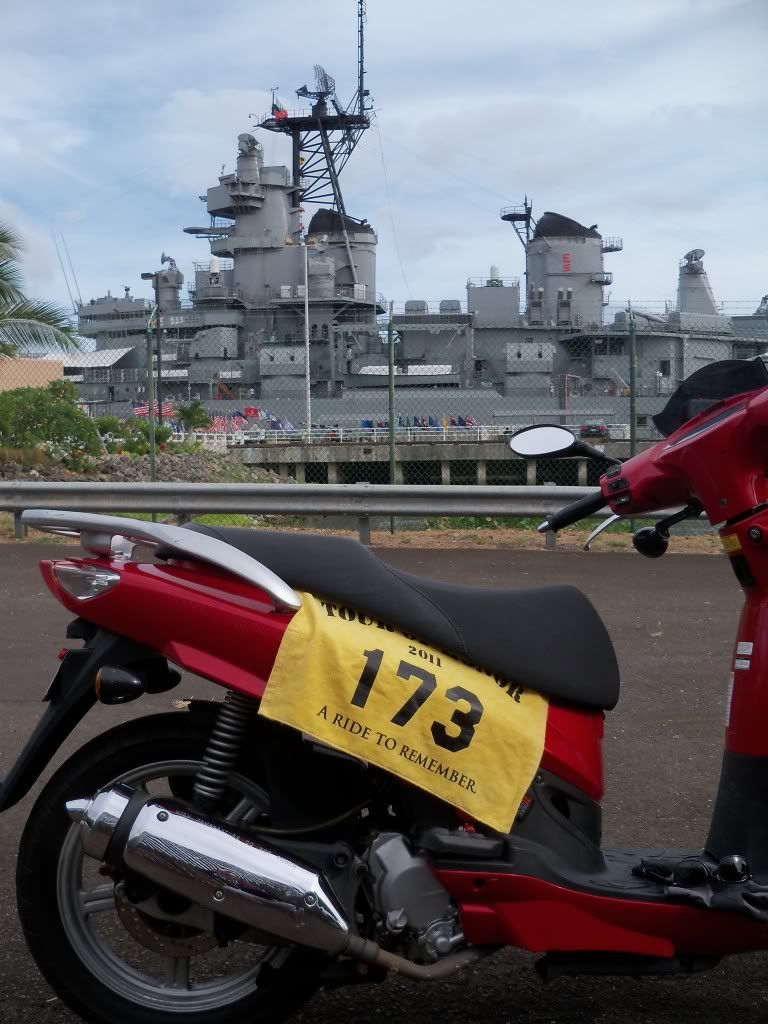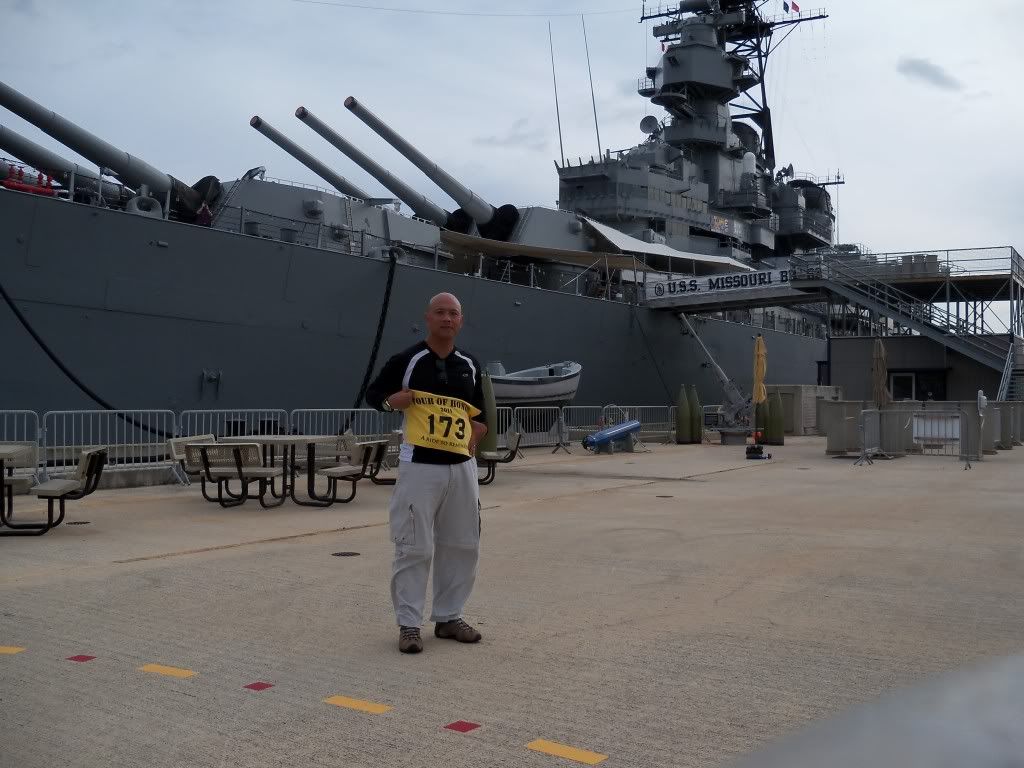 This pic gives you an idea of how close the Missouri is to the Arizona Memorial (to MY left but not shown). For visitors with base privileges, you can drive yourself to Ford Island but all others need to take a shuttle from the Arizona (last one leaves @ 1600).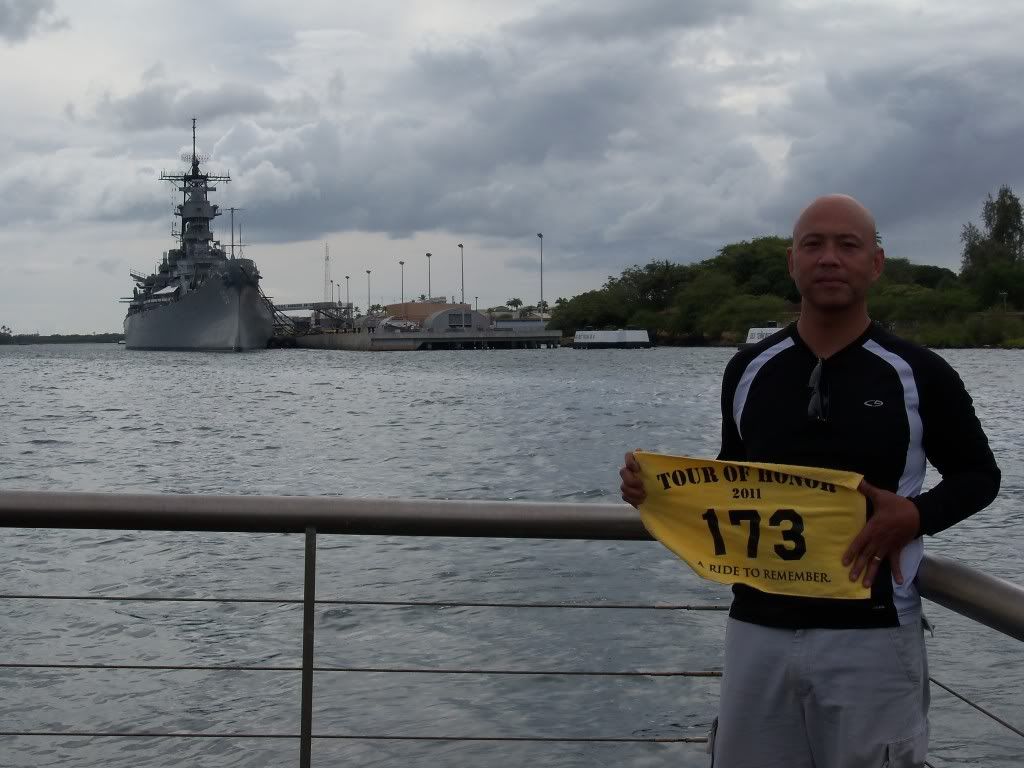 With the trip officially over, I had to delay the celebration because of what awaited me: rush hour traffic in Oahu on a Friday afternoon to return the rental scooter to Waikiki (I know, a cakewalk). And this concludes my ride report. Mahalo everyone for taking time to read.
P.S. If ToH California was the toughest/most memorable ride of my life, ToH Hawaii is easily the most fun/relaxed/laidback time I've ever had on 2 wheels (heck, just look at that fresh and invigorated smile on my face).